In Japanese
Flatland: An Electric Whiteboard System
With E.D.Mynatt, W.K.Edwards, A.LaMarca at Xerox PARC.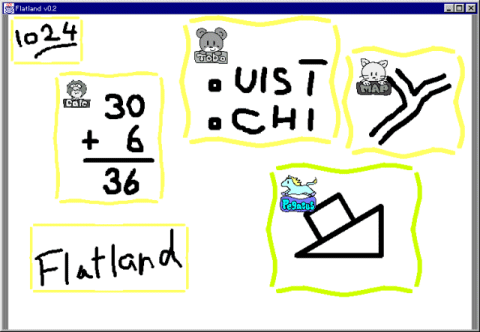 Demostration Movie (mpeg, 2min, 40MB)

Flatland is an augmented whiteboard designed to assist informal activities in one's office environment. Current research focus is on the software architecture to support stroke-based interaction. This demonstration illustrates the user interface aspects of the board, focusing on its screen real estate management, flexible control of various behaviors working on the surface, and context based search mechanism. The combination of simple user interface based on strokes and advanced stroke management architecture can greatly enhance the basic functionality of physical whiteboards without damaging original strength of them.
---
Publications
Elizabeth D. Mynatt, Takeo Igarashi, W. Keith Edwards, Anthony LaMarca,
"Flatland: New Dimensions in Office Whiteboards",
ACM SIGCHI Conference on Human Factors in Computing Systems, ACM CHI'99,
Pittsburgh, May 15-20, 1999, pp. 346-353. PDF

Takeo Igarashi, Elizabeth D. Mynatt, W. Keith Edwards, Anthony LaMarca,
"Demonstrating Flatland User Interfaces" [Demonstration],
ACM SIGCHI Conference on Human Factors in Computing Systems, ACM CHI'99,
Pittsburgh, May 15-20, 1999, pp.27-28. PDF

Takeo Igarashi, W. Keith Edwards, Anthony LaMarca, Elizabeth D. Mynatt,
" An Architecture for Pen-based Interaction on Electronic Whiteboards",
AVI 2000, ACM Press, Palermo (Italy), May 24-26, 2000, pp.68-75. PDF
---
to Takeo's home
to lab's Home Takeo Igarashi : takeo@mtl.t.u-tokyo.ac.jp