[ Japanese ] [ French ] <! a href="http://www.archmatic.com/teddy/index.htm" German /a>




Teddy: A Sketching Interface for 3D Freeform Design

Copyright (C) 1999 Takeo Igarashi

[NEW] <! A new version a href="../java/smoothteddy/index.html" SmoothTeddy /a is available. You can model and paint, and much more! > A commercial product is avaiable on Unity Asset Store.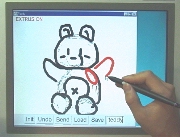 Teddy is a sketch-based 3D modeling software.
You can make interesting 3D models just by drawing freeform strokes.
Teddy requires Java installed in your machine, and mainly designed for Windows.
(If you want to run Teddy on Mac, please read here .)

<! NEW: You can paint your teddy models using chameleon >
Additional resources